This July, Navy veteran Gilbert Meyer celebrated a huge milestone: his 100th birthday. As one might expect, this special event attracted some attention in Gilbert's local press, but not entirely for the fact that he was turning 100.
Along with his centennial birthday, Gilbert's life journey includes his story as a Pearl Harbor survivor. On that day in 1941, he was serving on the USS Utah when it was hit and then sunk. To commemorate his service and his birthday, his town of Lytle, Texas presented him with a proclamation that his birthday would henceforth be called "Mr. Gilbert Meyer Day" in Lytle.
Although he wasn't able to be a part of the public ceremony, Gilbert was able to celebrate this special occasion at his own home. This was thanks in large part to the wonderful care of his daughter, Mary, and because in February, they both chose Amedisys as his hospice partner. Due to worsening symptoms from his chronic obstructive pulmonary disease (COPD), Gilbert's primary care provider recommended that he and Mary consider Amedisys services to support his healthcare needs and improve his quality of life.
[action 1]
Hospice care for support and comfort
Gilbert and Mary first became familiar with Amedisys when they used Amedisys Home Health Care to help Gilbert remain safely at home and live as independently as possible. They were pleased with his care, and when it became clear that hospice was an appropriate choice, staying with Amedisys seemed like the natural next step.
Mary explained that Gilbert's primary hospice nurse, Valerie, has been a big source of support and comfort for her dad and for herself as a caregiver. "She's a really, really good nurse," Mary said. "She's very supportive of Dad." She also notes that Valerie's own experience in the Navy for 12 years has helped form a connection with Gilbert.
The nursing care goes beyond just medical care, as Mary shared. Valerie has assisted with everything from helping to ensure Gilbert's do not resuscitate (DNR) order was filled out correctly, to helping to alert local utilities of his priority need for electricity to power his oxygen concentrator, to arranging the hospice supplies that Mary needed at home for Gilbert's care.
Amedisys hospice also provides a certified nursing assistant (CNA), who comes in twice a week and helps Gilbert with personal care, which he appreciates. "He feels good, and he gets his clean-up and is happy," Mary said. "She's the first one whose name he remembered, and he remembers all her children— he's developed a rapport with her."
Amedisys hospice care and quality of life
Mary is Gilbert's only caregiver, and he lives with her. "It's infinitely helpful just to have someone to talk to— a person who comes here regularly with a nice cheery attitude," Mary said with a little laugh. She explained that his nurse also answers any questions she may have about his care and has taken the time to explain to her what to watch for, so she knows whether he's in distress or not.
"Even if you have other people in the family, hospice is a very useful adjunct to the patient's care," Mary shared, "because the hospice staff are the skilled people who look at the medical issues and can advise the family. They can lead them into where it goes next, and what to look for."
Gilbert also shared some feedback on his quality of life: he says he's "doing fine" and feeling generally good despite his health concerns, and Amedisys has been supportive. "I've been receiving good service," Gilbert said. "No complaints. They're pretty helpful."
That help has allowed him to enjoy time with his "wonderful daughter and her two kitties," as Gilbert put it. He even entertained Lytle's mayor briefly for his birthday celebration, and personally received his proclamation. "That was quite a birthday I had," he recalled. "It was good."
Mary has also very much appreciated the regular visits from their hospice chaplain, who also formed a connection with Gilbert, so much so that she requested to stay with the family even when her area of coverage changed.
The team is sure to check in with Mary as well during their regular visits. "They always ask how the family is doing— and that would be me," she explained. For anyone else considering hospice, Mary says, "I would say, go for it!"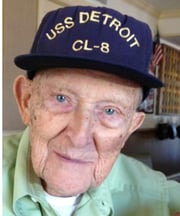 Editor's note: Mr. Meyer passed away at home shortly after these interviews were conducted. We are honored to share his hospice journey and spirit as a survivor to commemorate his life and service to our country.