Camp Braveheart is a grief camp for children coping with the loss of a loved one. Each year, a small group of children ages 6 to 16 arrives at Camp Braveheart in Chapel Hill, NC with heavy hearts. Camp Braveheart greets them with open arms, bereavement support, fun projects and cheeseburgers.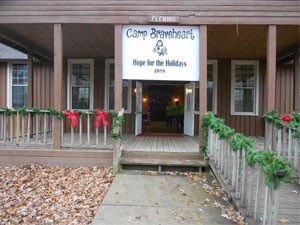 The daylong grief camp is led by caring adults and bereavement professionals from Amedisys Hospice. It is a program headed up by the Amedisys Hospice care center in Garner, NC. Hospice families dealing with loss are invited as well as families from the community. "Our first camp was a day of reflection, tears and lots of joy," says Katherine Barham, the volunteer coordinator who championed the children's bereavement camp. "We can't heal them in one day, but we've created a place to plant the seeds of healing."
Many of the children who attend grief camp have experienced horrific losses. One child witnessed an act of domestic violence that left both parents dead. Another child's father was murdered in a robbery gone bad. Others suffered the sudden death of a parent by heart attack or car accident, or lost multiple loved ones in a short time. All are welcome and can benefit from the healing that happens at Camp Braveheart.
[action 1]
What Happens at a Children's Bereavement Camp
At Amedisys Hospice's grief camp, children receive bereavement support and have experiences that help them heal. The day begins with an opening session and singing the Camp Braveheart song. Then the children and adult leaders break into two groups based on age. They spend the day working through a series of group activities to build trust and comfort, allowing for moments of reflection and remembrance of their loved one. Between art projects and other activities, the children have lunch and spend time together.
The day ends with a debriefing session. The children express how they felt before coming to grief camp, and compare that to how they feel at the end of the day. "Some of the children were anxious at the start of day but by the end, they didn't want to go home and asked to come back next year," Barham recalls. "It is amazing to watch their resilience as they work through the day."
Grief camp also works with families to strengthen family bonds and promote openness. The children's parents attend a separate session led by a chaplain where they are invited to talk through their experiences. They also receive resources to take home with them. "The parents were so grateful for the resources to help their children continue to heal," says Barham.
The day ends with the release of balloons, giving each child an opportunity to say "goodbye" to their loved one. All enjoy smores and sing the camp song around a roaring campfire.
Benefits of Grief Camp
Children who attend bereavement camp have valuable opportunities to process grief and loss through: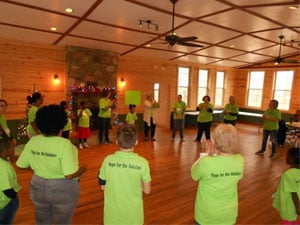 Sharing photos of loved ones to explore their grief
Openly expressing feelings through art and play
Learning coping skills through projects reflecting feelings of sadness and remembrance
Connecting with other children who are also experiencing grief and loss
Getting bereavement support and feeling cared for in a fun, healing, natural setting
Building confidence and reaffirming the beauty of life
How Children Cope With Loss
Families often think children are handling the loss of a loved one surprisingly well. There may be no immediate, intense response. They still play and laugh. They don't cry all the time or share painful feelings. But children cope with grief and loss differently than adults, and it's easy to overlook signs they need bereavement support. Here are some of the unique ways children cope with loss:
Grief Bursts – Children tend to move in and out of grief. They may seem fine one moment and then get unexpectedly emotional after a seemingly insignificant and unrelated event. These feelings of sadness tend to come and go over a long period of time. As they grow up, children may re-grieve their loss, especially during major milestones like getting married or having a child.
Non-Verbal Expression – Young people may express themselves through play and acting out because it's hard to verbalize how they feel. They may also feel irritable, have nightmares or show anger toward surviving family members. Some children withdraw and stay silent, often because they think talking about their loss will make surviving loved ones sad or angry.
Physical Complaints – Children may feel more comfortable expressing physical pain than emotional pain. For example, they may complain of headaches or stomachaches.
Understanding of Death – Children don't usually have a well-developed understanding of death. Young children think death is temporary and reversible. They may repeatedly ask when their loved one is coming back. Some young children think their loved one's death is their fault. They may think they could have somehow prevented it.
Magical Thinking – It helps some children cope with grief to idealize the loved one they lost. Other children may fantasize that their parent will come back. Some may wish to die, in an abstract way, so they can be with their deceased loved one. Even older children with a more concrete understanding of death may think it won't happen to them or people they know.
Regression – Often, after losing a loved one, children start acting younger. For example, they may revert to old behaviors, such as bedwetting, baby talk or thumb sucking. They may need more attention than usual to cope with feelings of fear and insecurity.
Why Children Need Bereavement Support
Research shows children are better able to deal with loss when they can mourn with others and talk about their experience. Bereavement support can help, as can family meetings, grief counseling for children and the support of peers.
Children who lose a loved one often feel isolated. Their friends can't relate. The important adults in their life may be unavailable due to their own grief. This can lead to several short- and long-term problems. For example, loss of a parent in childhood has been tied to depression, suicide and mental illness later in life.
Look for the following signs that a child is struggling to deal with loss:
Loss of interest in activities they used to enjoy
Difficulty sleeping
Loss of appetite
Withdrawing from friends and family
School problems such as inability to concentrate, learning difficulties, or a sharp decline in grades or attendance
Ongoing talk about wanting to join the deceased person
Ongoing fear of being alone
Acting much younger than they are for a long period of time
Believing they can see or talk to the deceased person over a long period of time
Denying the person died for a long period of time
Attempting to cope in unhealthy ways such as drug or alcohol use
Severe separation anxiety or overprotective behavior toward surviving loved ones
Self-harm or physical violence toward others
How Loved Ones Can Help Children Cope With Loss
It's important for children to grieve. In addition to being a natural, normal reaction to losing a loved one, working through grief helps children heal. Parents and loved ones can help children process grief and loss by:
Letting children know, through words and actions, that it's okay to talk about death and their deceased loved one, and that feeling sad, angry, scared and other emotions is normal
Sharing feelings (in ways that won't scare or worry a child) so the child knows they aren't alone
Allowing children to express grief on their own terms and timeline
Avoiding assumptions (e.g., that you know how they feel or their experience is similar to yours)
Resisting the urge to push children to talk or get back into normal activities before they're ready
Spending time with them and being available to listen, reassure and help
Encouraging children to keep normal roles rather than taking on adult responsibilities or becoming an adult's best friend
Sticking to household routines and rules to maintain a sense of security and normalcy
Learning the signs that the child is struggling to cope with loss
The child's loved ones, who are often trying to cope with loss as well, also need support. Grief camps like Camp Braveheart help both children and their families feel cared for and take steps toward healing. Learn more about how Amedisys hospice supports loved ones who are grieving.