Falls are the leading cause of injuries in elderly adults.
An older adult falls every second of every day.
One-fourth of Americans age 65 and older fall each year.
These fall statistics are alarming. But it's easy to lose sight of the fact that behind each of these statistics are millions of parents, grandparents and loved ones whose lives are forever changed because of an elderly fall.
Losing Two Grandparents in One Month
[action 1]
As a physical therapist, I have always been passionate about fall prevention and home health care for elderly adults. Part of it stems from personal experience. Both my grandmother and grandfather became fall statistics.
My grandmother had COPD and several other health issues. She was in hospice care for over a year. But it wasn't until she fell in the bathroom at home that she declined rapidly. She stopped moving around. She spent more time in her wheelchair and eventually in bed. With her physical decline and increase in COPD symptoms came a mental decline. She passed away within six weeks of her fall.
I'm a physical therapist. I know the statistics. I've read the stories. But this was the first time it really sunk in how quickly a fall could change an older adult's life.
While statistics are useful, they don't tell the whole story. Even if the fall itself didn't kill my grandmother, it set everything else into motion. Statistics don't capture the large number of people who have falls that exacerbate something else, and that something else ultimately leads to their demise.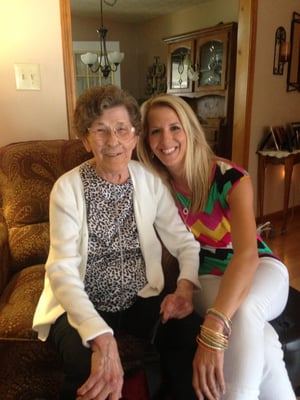 My grandmother never acknowledged that she was afraid of falling or that an elderly fall changed her life. But the family noticed several changes, including:
Posture changes
Reduced movement
Wearing different clothes that were easier to put on
Increased "furniture walking," or holding on to furniture and walls for support
Eating dinner on the couch rather than at the dinner table
It was a total change in everything she did that was never verbalized or acknowledged.
Not even a month later, my grandfather fell in his home. He didn't have any major health conditions and had a caretaker who helped him with tasks around the house. The family never thought of him as a fall risk. As a result of his elderly fall, he fractured his hip and needed surgery. He spent several days in the hospital, but never recovered. He was transferred to a hospice facility and within 12 hours he passed away, just one week after his fall.
A Personal Mission for Fall Prevention
As senior director of regional therapy services for Amedisys in the Southeast, fall prevention has become an integral part of my work in home health care. I helped develop the Amedisys Fall Reduction Program, an interdisciplinary program designed to improve quality of life, avoid preventable falls and reduce hospitalizations.
Fall statistics are all too real in my family. I've seen what can happen firsthand. If one person can have their family member around longer, to me the work we're doing is worth it.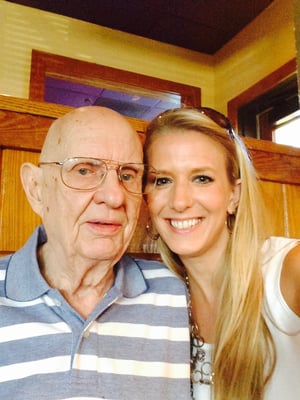 My advice for other families is to ask questions and offer help for older adults, even if they seem to have a low fall risk. Like many older adults, my grandparents were "proud people." They didn't want to admit a fear of falling or inconvenience the people they loved.
The most effective approach was encouraging them to take precautions such as grab bars and stair lifts for the sake of the family. They would do anything for their family, but not for themselves. We couldn't explain it as being afraid for their safety or worried about a decline. Instead we approached it as ways they could stay independent longer.
There are often several factors that contribute to an older adult's fall risk. For example, poor vision, environmental fall hazards like rugs or poor lighting, medications, muscle weakness and poor balance could all play a role.
It's hard for one health care provider to know about and manage all of the different fall risk factors. Since we're right there in the home, with multiple disciplines identifying and intervening on risks, we can look at fall reduction from a holistic perspective.