About 80% of Americans want to die at home, but only about 20% do. Instead, most people die in a hospital.
Hospice care can help people have a dignified, meaningful death at home, surrounded by family and friends. The focus of hospice care is pain relief and symptom management, not curing the illness. The cost of hospice care is 100% covered by Medicare for eligible patients.
[action 1]
Unfortunately, over half of people don't get hospice care at all. Of those who do get hospice, most are only on hospice for a few days or weeks even though they can be on hospice for six months (and potentially more if a doctor recertifies the patient). In fact, the median length of service for Medicare patients enrolled in hospice is only 24 days.
There are several benefits to getting hospice earlier. The hospice team has more time to find out what matters to the patient, which allows them to tailor care to their unique needs and goals. This may result in better symptom and pain management and improved quality of life. Patients in hospice care are also more likely to be in the comfort of home than a hospital intensive care unit.
Hospice care may even prolong the patient's life. Research shows patients on hospice live 29 days longer than those who don't receive hospice care.
The top priorities in hospice care are comfort and quality of life. Patients have access to a hospice care team made up of nurses, hospice aides, chaplains, social workers, hospice volunteers and bereavement counselors. This team provides care for patients and families in the home and reduces expensive and unnecessary hospitalizations.
Check out the infographic below to learn more about the highly desired but widely underutilized hospice care benefit.
Maximizing the Hospice Benefit
Hospice use has increased significantly during the past decade, but there are still thousands of people who deserve high-quality end-of-life care that are not receiving it.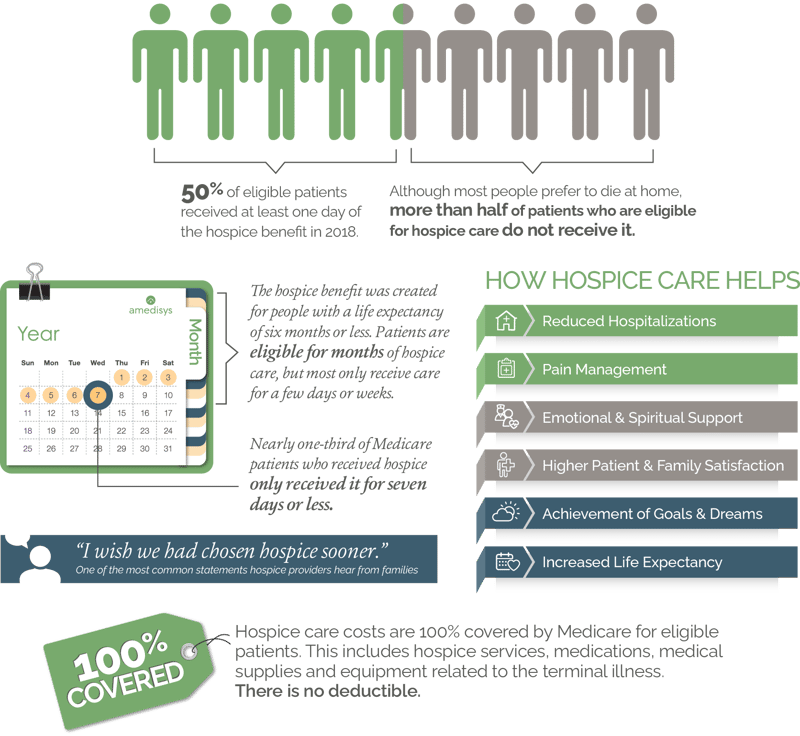 SOURCES
MedPAC March Report to Congress, Various Years
https://www.medicare.gov/Pubs/pdf/02154-Medicare-Hospice-Benefits.PDF