A simple coffee hour can make a big difference to veterans in hospice care. No one knows this better than volunteer coordinator Cynthia Robotham and bereavement coordinator Judy Hunter from Beacon Hospice, an Amedisys Company, in Hyannis, MA.
Each month, they coordinate a Vet-to-Vet Café at nursing homes, skilled nursing facilities and other long-term care centers in their area. The event is open to all veterans, not just Amedisys patients.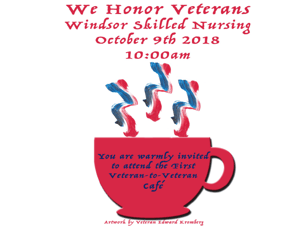 They created invitations that incorporate a veteran's artwork, and have the facility's activities director hand one to every veteran. "It's an embrace," says Robotham. "We want them to know we're here if they're interested."
While enjoying coffee and a baked good, veterans gather to share stories and mingle. Some just sit back and listen. "Some veterans are hesitant to get involved, but they're comforted when they see how casual and enjoyable it is," says Hunter.
A Mission to Honor Veterans and Communities
The idea behind Vet-to-Vet Cafés grew out of Robotham and Hunter's participation in veterans hospice pinning ceremonies. "We pinned them and thanked them for their service, but they wanted something more – they wanted to talk," says Robotham.
[action 1]
She fondly remembers the first Vet-to-Vet Café they coordinated. "We had a veteran who was very excited to be there," Robotham recalls. "He talked about being in the service and thanked everyone in the room, who were all from different military branches. He unloaded that day. He talked about his career as a guard on death row with convicts facing end of life. After having the chance to thank everyone and share his experiences, he died peacefully three days later."
The Hyannis hospice care center was selected by the National Hospice and Palliative Care Organization (NHPCO) to participate in the We Honor Veterans Pilot Project for Level V. Their concept and implementation for the Vet-to-Vet Café has been embraced by the We Honor Veterans Program, and now will become a staple in the Level V tier for those hospices that wish to achieve Level V status. Robotham and Hunter created an outline explaining how to plan a Vet-to-Vet Café for other We Honor Veterans program partners.
Meeting an Unfulfilled Need
What Robotham likes most about the Vet-to-Vet Café is that it doesn't take tremendous planning or money. "I love simple concepts that work," she says. "All you need is a caring heart, a small venue and a group of veterans. We all come together to honor their service and show them our warmth and appreciation."
The Vet-to-Vet Café is different from veteran hospice pinnings and other honor ceremonies. "It's more intimate," Hunter explains. "It's filling an important gap in what we offer veterans at end of life. It's that last chance to be with other veterans and talk about their experiences. Sometimes they want to open up about something they've never been able to talk about."
Robotham, Hunter and their team pride themselves on being extremely sensitive to veterans' end-of-life issues. Their passion has been felt by all those whose lives they've touched. "What Cindy and Judy do as dedicated We Honor Veterans partners is because of their loving dedication and will to serve," notes Katherine Kemp, Veterans Services Manager for the NHPCO, in the organization's Fall 2018 newsletter.
Having recently hosted their eighth Vet-to-Vet Café, their groups have now outgrown the room they initially started in and they've expanded to other long-term care centers. Other We Honor Veterans partners come to their monthly events so they can recreate Vet-to-Vet Cafés at their own hospice care centers. "Attendance is great, so we know it's working," says Robotham.