On September 3, 2018, the veterans hospice care team from Beacon Hospice, an Amedisys company, in Portsmouth, NH gathered with his family to honor Chief Warrant Officer Richard F. LaBranche. He completed 22 years of faithful service in the United States Army and United States Navy. Richard served on active duty with the U.S. Navy for 16 years, starting in 1950. He was stationed in various locations including Naval Intelligence at the Pentagon. He then transferred to the U.S. Army where he finished his career, retiring in 1972.
Richard served during the Korean and Vietnam wars, including two tours in Vietnam from April 18, 1968 to April 7, 1969 and then again December 20, 1970 to December 8, 1971. During his military service, his specialty was vessel master and coastal mate. He received several awards for his service, including the Bronze Star.
A Special Day of Thanks
Every veteran hospice pinning is memorable, but for Nicole Finitsis, the volunteer coordinator at the hospice program in Portsmouth, this one had special meaning. Richard is her grandfather. "As the oldest grandchild, I have always had a special relationship with my grandfather," she says.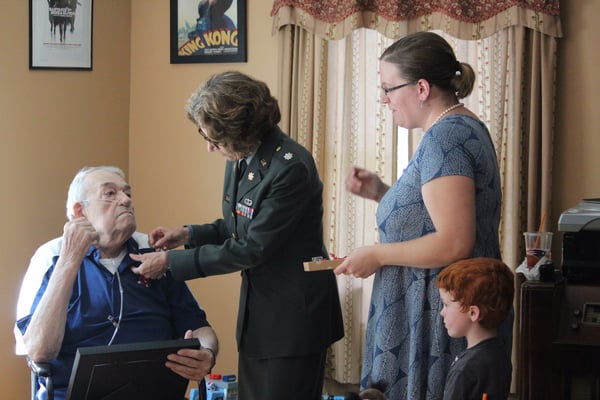 Nicole presented Richard with a certificate of service and pin of the flag of the United States of America. He also received a star from a decommissioned flag and words that every veteran deserves to hear, "Thank you for your service, sir."
[action 1]
Patricia Bushway, a veteran hospice volunteer who served in the U.S. Army for 21 years, dressed in full uniform, thanked him for his service and placed the pin on his lapel. "It was really gratifying for me to participate, particularly because he had been a warrant officer in the Army" says Patricia. "Warrant officers are the go-to subject matter experts. They're the smartest guys around."
It was an honor to witness for Nicole too. "Something special happens when a veteran thanks a fellow veteran," she says. "Even if the person on hospice care can't communicate, you can see by their reaction how much this touched them. It makes the moment all the more special."
The hospice care team recognized Richard's wife for supporting her family during her husband's service. They also honored his three children and grandson, who carried on the family tradition of service in the U.S. Army. This was important to Richard who "was hesitant about being the center of attention," says Nicole. "He agreed to it because we were thanking the whole family, not just him."
Experiencing Veterans Hospice Care From Both Angles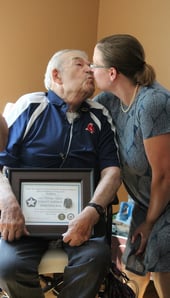 Having a loved one on hospice care and working in the field put Nicole in a unique position. "This has been a hard time for my family, but it has been therapeutic," she says. "Being on both sides of hospice has given me a different perspective on the work we do." She now has even more compassion for the turmoil and uncertainty families are facing when they begin a hospice program.
She adds, "It is both an honor that my family went with my recommendation for hospice but also a larger responsibility than anything I could have imagined. We all want what is best for our loved ones and when they depend on you to make a decision you hope all will go the way you envisioned it. I can say with confidence that I have been so grateful and blessed to be able to see and participate in my grandfather's journey."

Finding Peace in Veterans Hospice Care
At first, Richard, age 84, was reluctant to try hospice care. "He has always been a leader in our family. He took care of everyone else," says Nicole. "So it was a huge pill for him to swallow to have others take care of him."
Richard and his family decided a hospice program was the right choice after he had been hospitalized three times in just a few weeks. "We knew in our guts that things weren't going to get better any time soon," she recalls. So they asked the hospice medical director to see Richard and have a frank conversation with him and his family. "We had the conversation we had been waiting to hear," says Nicole. "It affirmed the feelings everyone already had."
Richard has received hospice care since March 2018. This time has allowed him to get the full benefit of the services hospice care offers. For example, Richard has been visited multiple times by a fellow Vietnam veteran through Amedisys' veteran volunteer program. Nicole has witnessed the camaraderie between them and notes, "They have an easy banter back and forth. They talk about the different ships and stations they were at. It's nice for him to have that support."
Richard is always happy to see his hospice aide, who helps him with showering and self-care. He has also worked with a hospice nurse and social worker on issues of forgiveness for not being present for his family while overseas serving our country. He also wanted to make sure his wife had someone there to care for her needs. Nicole says with certainty, "We couldn't do all of this without hospice."