Hospice provides a full range of services for people with serious illness. It also supports loved ones and caregivers. With all the help hospice offers, some older adults think it's out of their budget. But for many people, there are no out-of-pocket costs.
How is hospice paid for? Hospice care costs are covered by the Medicare hospice benefit, Medicaid and most private insurance plans. There are also options for people who don't have insurance. Learn more about your options for paying hospice care costs.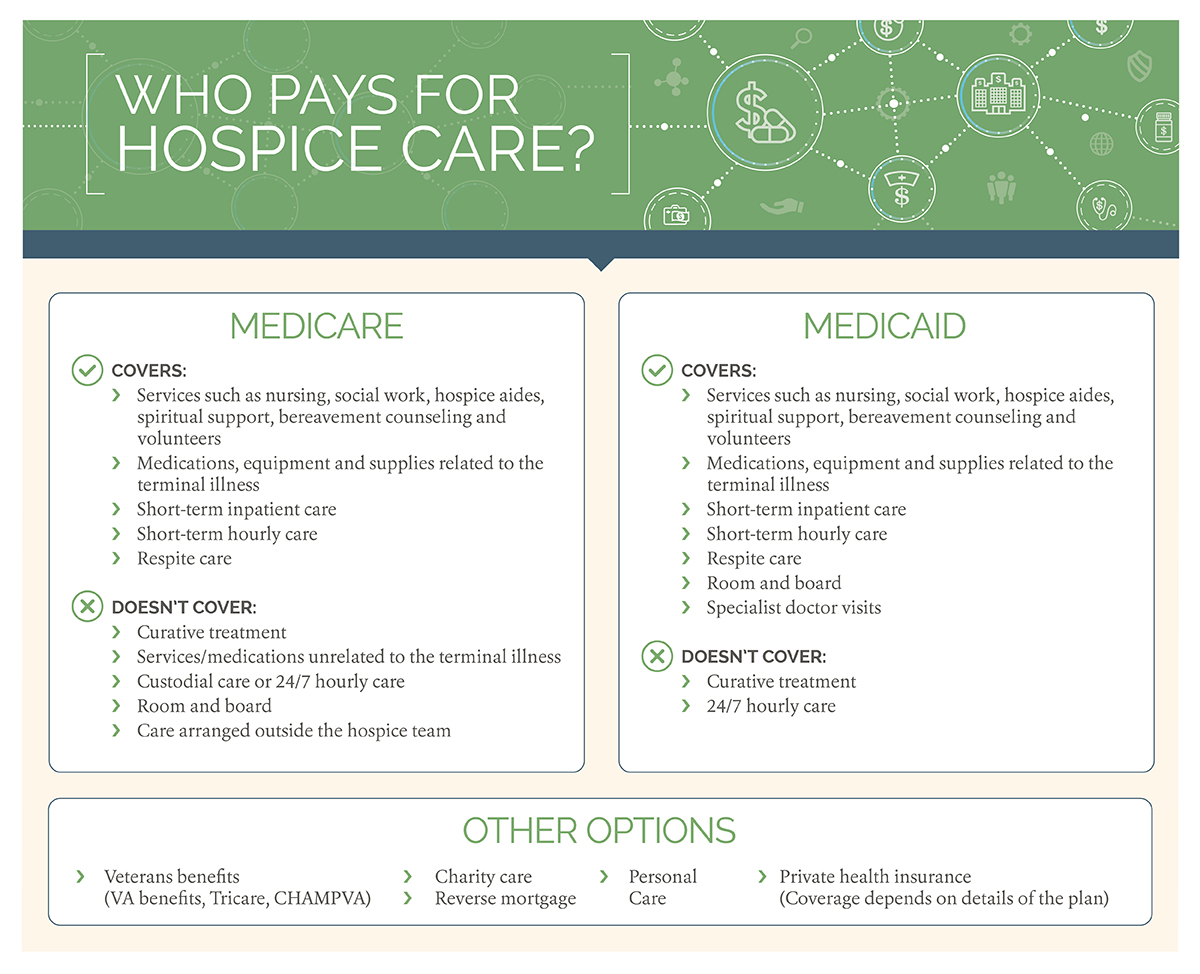 Option 1: Paying for Hospice with Medicare
Many older adults ask, "Does Medicare cover hospice at home?" The answer is yes. About 85% of patients pay hospice care costs using the Medicare hospice benefit.
[action 1]
Medicare covers hospice costs if the patient meets these eligibility criteria:
65 or older
Diagnosed with a serious illness
Certified by the hospice doctor and their regular doctor as having less than six months to live
Chooses to stop treatment to try to cure their illness, or efforts to cure their illness aren't working
Receives care from a Medicare-certified hospice agency
Patients can receive hospice care longer than six months if the hospice doctor determines they're still eligible.
The Medicare Hospice Benefit
The Medicare hospice benefit offers comprehensive coverage for hospice care costs. Some of the covered benefits include:
Services to manage the terminal illness, such as:

Doctor services
Nursing care, including medication management and education for caregivers
Social work services
Hospice aides for help with daily activities like bathing and grooming
Physical, occupational and speech therapy
Dietary counseling
Bereavement counseling
Spiritual support
Hospice volunteers

Medications for pain and symptom relief related to the terminal illness
Equipment and supplies related to the terminal illness (e.g., wheelchairs, walkers, bandages, catheters)
Short-term inpatient care for pain and symptom control
Short-term hourly care at home for pain and symptom control
Respite care for patient to provide caregiving relief (small copayment may be required)
Hospice Care Costs Medicare Does Not Cover
The Medicare hospice benefit is designed to cover the care patients need. But in some situations, the patient could be responsible for certain costs. These include:
Copays for prescriptions used for pain or symptom management ($5 or less)
Coinsurance requirement for inpatient respite services (5% of the Medicare-approved amount)
Treatment or prescription drugs designed to cure the patient's illness. Patients can stop hospice care any time if they decide they want curative treatment. They can go back to hospice any time if they're still eligible.
Medications and services related to conditions other than the terminal illness. Note these still may be covered under regular Medicare.
Help with daily tasks (custodial care) at a nursing home or assisted living facility
Room and board at a nursing home or inpatient hospice center
24/7 hourly care
Care that isn't approved and arranged by the patient's hospice team. For example, emergency care (ambulance or emergency room costs) that isn't arranged by the hospice team would not be covered unless it was unrelated to the terminal illness. Patients can still see their regular doctor, who will supervise their hospice care.
Long-term care insurance or Medicaid may help cover costs that aren't covered by Medicare. The hospice care team can explain which hospice costs are covered under the Medicare hospice benefit. The team can also explain any out-of-pocket costs up front.
Option 2: Paying for Hospice with Medicaid
In most states, Medicaid covers hospice care for those who have low income and assets. Medicaid hospice eligibility criteria vary by state, but typically include:
Certification from a doctor that the patient is terminally ill with a life expectancy of six months or less (up to one year in some states)
Comfort care, not treatment designed to cure the terminal illness
The Medicaid Hospice Benefit
Benefits under Medicaid are similar to the Medicare hospice benefit. However, Medicaid coverage varies by state. Medicaid coverage can be used alongside Medicare coverage. Also, using Medicaid for hospice doesn't take away Medicaid coverage for symptoms that aren't related to the terminal illness. Contact your state Medicaid agency to see which services are covered.
Option 3: Paying for Hospice with Private Health Insurance
Many private insurance companies cover hospice care. They often pay the full cost of hospice. However, plans vary. Check with the patient's insurance company to confirm:
If there are qualifications the patient must meet to receive hospice benefits, such as:

Having a doctor certify they have a limited life expectancy
Choosing not to pursue curative treatment

Which hospice services are covered under the plan
If there are any limits on hospice expenses
What costs the patient will be responsible for, including copays and deductibles
Option 4: Paying for Hospice Without Insurance
There are several options for patients who want hospice care but don't have insurance. For example:
Veteran's Benefits
The Veterans Administration (VA) provides similar hospice benefits as the Medicare hospice benefit. It also offers CHAMPVA, which pays for hospice for eligible beneficiaries of certain deceased or disabled veterans.
Tricare is a health care program sponsored by the Department of Defense. It covers hospice for active military members and retirees and their dependents.
Charity Care
Some hospice agencies provide care free of charge to patients who don't have insurance or resources to pay for hospice.
Reverse Mortgage
Some older adults use a reverse mortgage to pay for hospice care at home. This type of home equity loan is designed for people ages 62 and older. Borrowers don't make regular payments like a typical loan. Instead, the loan is due when they pass away, move out or sell the home. Their home equity goes down based on the amount of money they get. The money paid to the homeowner is tax-free, but there are several drawbacks of a reverse mortgage. Talk to a lawyer or other specialist for details about how this works.
Personal Savings
Older adults can use personal savings to pay for hospice. Some hospice agencies offer discounted services or sliding scale payments based on the patient's resources.
Having a loved one with a serious illness is difficult. Hospice makes a difficult time more manageable, without adding financial stress. With various payment options, hospice is an affordable way to make the most of the time left with your loved one. Call a hospice agency near you to learn more about how to pay for hospice care.