At first, James Driver was not a fan of home healthcare. Driver, an 80-year old volunteer and resident of Loxley, Alabama, is a mentor for the Baldwin County Justice System Veterans Court. He began home healthcare after being diagnosed with heart failure with an ejection fraction (EF) of 20-25 percent. The EF is a measurement of the percentage of blood leaving your heart each time it contracts and is used to diagnose heart failure.

According to the Mayo Clinic, an EF of 55 percent or higher is considered normal. A low EF often causes patients to feel tired most of the time and experience shortness of breath and swelling in the feet, because the patient is not getting enough blood to the rest of the body. A low EF can also cause a very rapid heartbeat which can produce lightheadedness, fast pulse and fainting. These symptoms, coupled with increased anxiety and stress, quickly diminish a heart-failure patient's health and quality of life, often resulting in hospitalization.
[action 1]
Against recommendations, Driver discharged himself early and did not continue his chronic disease management plan. He landed back in the hospital for three weeks with an EF of 10 percent. Realizing how important it was to improve his health and stay on his care plan, Driver elected home healthcare again and enrolled in Amedisys' new Heart Failure Program.
LIVING WITH HEART FAILURE
A truly engaged patient can live well with heart failure. Driver's Amedisys home health nurse, Jodi Sessions, collaborated with his cardiologist, Kenneth Burnham, M.D. of Cardiology Associates, to combine the physician-approved care plan including medications with the home health clinical plan of care and Driver's self-defined life goals to formulate a comprehensive care strategy.
"Mr. Driver is an incredibly complicated patient," said Dr. Burnham. "Often, heart failure success is about treating symptoms, optimizing medications, helping patients breathe, and lowering their anxiety to maintain better control of their daily lives."
PATIENT ENGAGEMENT GOES A LONG WAY
Sessions took time to educate Driver and his family on daily progress and symptom tracking to help keep him out of the hospital and reduce stress. This is one of Amedisys' Heart Failure Program patient engagement tools that helps patients and their families take an active role in their care. Dr. Burnham's care plan included new medications to help control symptoms and increase Driver's energy.
With his new attitude and zest to improve his quality of life living with heart failure, James Driver lost more than 40 pounds and has been feeling great. He is now ready to return to his Veterans Court volunteer work, where treatment and mentoring replaces incarceration, or "wellness court," as he prefers to call it.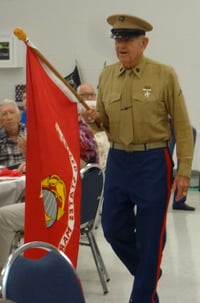 "I witnessed such a transformation in Mr. Driver," shared Sessions. "Once he embraced the Heart Failure Program and continuity of care I could provide to him, improvements happened. He began to smile a lot more!"
Within 90 days, Driver and his family grew to love home healthcare and the value it brought to their lives. The increased communication and exchange of information among clinicians, physician and caregivers had a dramatic effect on how Driver adhered to his care plan. Together, he and his family were able to take important steps to live a healthier lifestyle with a manageable, sustainable heart-failure care plan.
"I highly recommend the Amedisys [Heart Failure] program," said Driver. "Our nurse, Jodi, kept us well informed and helped keep me out of the hospital and get back to volunteer work with the Veterans Court."
Click below to see if home health can help you or your loved one.
Related Articles