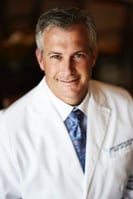 Dr. Kevin Courville, one of only 1,009 U.S. cardiologists certified in Advanced Heart Failure and Transplant Cardiology by the American Board of Internal Medicine and a Heart Failure Society of America Fellow, believes that outcomes happen when a heart failure patient can see the future and understand what steps to take to improve their health.
Heart failure is complicated, and every patient scenario is different. An individualized care approach is necessary to understand a patient's disease state, possible co-morbidities and their social determinants of health. When a patient leaves the hospital or doctor visit, implementing a heart failure care plan in the home environment (wherever home may be) is a critical component for long-term success. Comprehensive patient education, goal setting, coaching and the daily monitoring and tracking of medications and vital signs are imperative. This individualized approach and at-home support are what empowers patients and their caregivers to be an integral part of the care plan.
[action 1]
Partnering with Amedisys
Courville partners with Amedisys to educate and support his patients and their caregivers in the home, reduce unnecessary hospitalizations and help his patients stay on track to living a better life with a chronic condition. Using an individualized approach does not equate to using an individualized standard of care. Amedisys trains and deploys interdisciplinary health teams to educate and deploy the Heart Failure Program throughout the U.S. Amedisys teams use an integrated patient empowerment methodology focused on teaching patients and their caregivers—at every point of care—self-management strategies designed to achieve their self-identified goals.
The patient empowerment methodology builds trust and transparency for all participants—the patient, caregiver, clinicians, primary care physician and the cardiologist. It combines the physician-approved care plan, the patient's clinical and life goals, evidence-based clinical protocols and outcomes measurement with proprietary patient engagement tools to formulate life-long management of heart failure.
"The Amedisys Heart Failure Program provides the personal clinical care, daily assessments, and education my patients need to be fully engaged and take responsibility for their heart failure care," said Courville. "An empowered patient follows protocols. You cannot discuss arriving at the airport if packing has not begun."
According to the Centers for Disease Control and Prevention, 5.7 million adults in the U.S. have heart failure. With only 1,009 cardiologists certified in heart failure, most cardiologists, as Courville sees it, have to focus most of their time on acute cases. Also, Courville estimates that 83 percent of heart failure patients are in the care of a primary-care physician and may not be assigned to a cardiologist, or even know they have heart failure.
Filling in the Gap
The Amedisys Heart Failure Program fills a care gap that is becoming wider as the U.S. aging population increases. For patients in rural areas or smaller towns who are often hours away from the nearest cardiologist or heart clinic, a local home-healthcare program enables a cardiologist to have hands-on clinical support for patients. This local support helps to reduce unnecessary hospitalizations and allows cardiologists to treat and stay connected to their less acute patients.
Courville is also a digital health champion and has developed a software program used by his heart failure clinic staff for his patients. Clinicians input assessment data gathered at every patient visit and sometimes patients are entering their own data as well. The software program uses artificial intelligence (AI) to analyze patient data such as vital signs, stats and pulse and sends alerts to a patient's nurse for immediate response, if needed. The sophisticated system also uses Bluetooth™ technology to record daily weight directly from the scale or stats from other medical devices. The AI enables Courville to use predictive analysis to address serious issues that often trigger patients to return to the hospital. Patients learn what to look for and he can direct medications and treatments to the home health team immediately. His most empowered patients can order their medications with just one click.
Courville has treated thousands of heart failure patients and directed his patients to improve their health step by step. The combination of individualized care, patient empowerment, engagement tools, and technology are helping to keep his patients out of the hospital and on the path to improved, long-term health. The Amedisys Heart Failure Program empowers Courville to advance his practice and deliver the level of care he desires.
Related articles: