Most seniors want to grow old in the comfort of their own home, but many need extra help to make this happen. Home health agencies provide skilled care and services that allow seniors to "age in place." The question facing many older Americans is, "How do I pay for home health care?"
Several programs help people pay for the cost of home health care. Here are the most common ways seniors pay for home health care: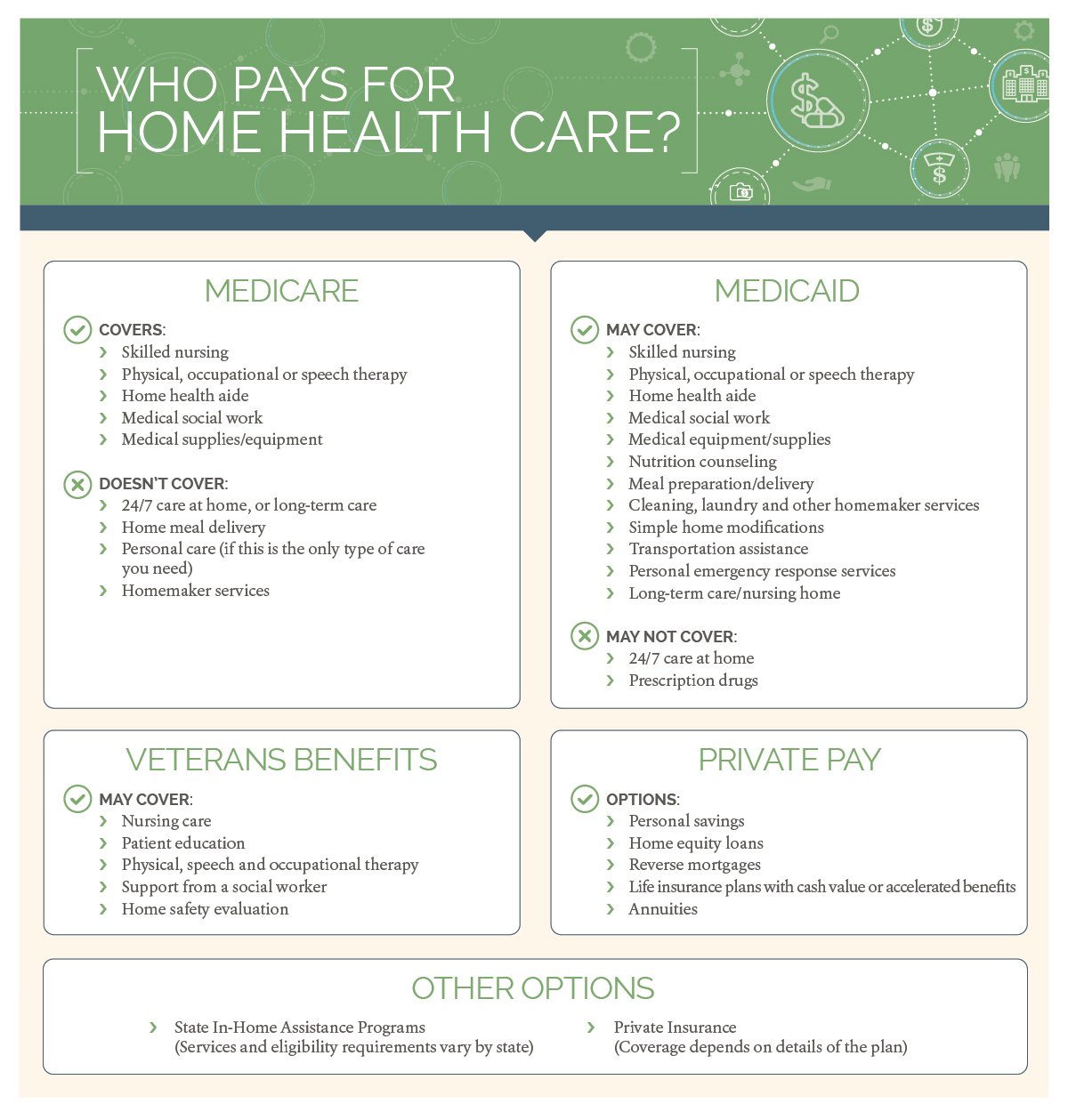 Option 1: Medicare for Home Health Services
Medicare home health care coverage is a valuable benefit. Although it is the most widely used way to pay for home health care, it is still underutilized. Medicare typically covers 100% of a wide range of skilled care services and medical supplies if certain conditions are met.
You can use Medicare for home health services if:
You're under the care of a doctor who regularly reviews your plan of care.
Your doctor certifies that you need services that Medicare covers.
The home health agency you choose is Medicare certified.
Your doctor certifies that you're homebound. This means, for example, you have trouble leaving home without the help of another person or a walker, wheelchair, cane or other device. You may also qualify if leaving home isn't recommended because of your condition. You may also be considered "homebound" if you typically cannot leave home, but the occasional times that you do leave home require a considerable and taxing effort (for example, you only leave home for medical treatment or occasional, short outings).
[action 1]
The Medicare Home Health Benefit
The Medicare home health benefit covers part-time or intermittent services such as:
Physical, occupational or speech therapy if necessary for treating your illness or injury
Skilled nursing

Injections
Wound care
Tube feedings
Education about a new diagnosis, worsening of a diagnosis or a change in medical condition
Management of your care plan

Home health aide – Help with dressing, bathing and using the bathroom, as prescribed in your care plan
Medical social services – Services ordered by your doctor to address social and emotional concerns related to your condition. Examples include counseling and finding community resources.
Medical supplies and equipment – Medicare covers wound dressings, catheters and other medical supplies. It also pays for most of the cost of durable medical equipment such as a walker or wheelchair.
Home Health Services Medicare Does Not Cover
There are some services commonly misconceived as covered by the Medicare home health benefit. To clarify, these services are not covered:
24/7 care at home, or long-term care
Home meal delivery
Help with getting dressed, bathing and using the bathroom (if this is the only type of care you need)
Help with cleaning, cooking, laundry, running errands and other homemaker services
Medicare may not cover 100% of the cost of home health care if:
Your doctor recommends services Medicare doesn't cover.
Your doctor recommends you get services more often than Medicare covers.
Your home health agency can help explain all out-of-pocket costs before you receive care, so you know what to expect.
Option 2: Veterans Benefits
If you're an eligible veteran, the Department of Veterans Affairs (VA) has programs that may help pay for home health care. Veterans benefits may cover:
Nursing care
Patient education
Physical, speech and occupational therapy
Services from a social worker
Home safety evaluation
The cost of care varies, and there may be copays in some situations. Contact your VA social worker or case manager for information about the services available in your area.
Option 3: Private Insurance
Private health insurance plans may cover skilled, short-term, medically necessary home health care. If you need long-term care or non-medical home care, you'll likely need a special type of insurance policy. Coverage varies from plan to plan and there may be copays in some situations. Review your insurance policy coverage and benefit materials for information about the services available under your specific plan.
Option 4: Medicaid for Home Health Care
Medicaid may pay for home health care and non-medical personal care to help eligible seniors stay in their homes. Some people with disabilities, elderly and families are eligible for Medicaid. Check your eligibility and benefits, as Medicaid rules vary by state. If you're eligible, Medicaid may cover:
Skilled nursing
Physical, occupational or speech therapy
Home health aide to help with daily tasks
Medical social work services
Medical equipment and supplies
Nutrition counseling
Meal preparation/delivery
Cleaning, laundry and other homemaker services
Simple home modifications
Transportation assistance
Personal emergency response services
Long-term care/nursing home
Depending on your state's program, Medicaid may not cover prescription drugs or 24/7 care at home.
Option 5: State-Funded Programs
If you don't qualify for Medicaid, you may be eligible for state in-home assistance programs. Most states have programs designed to keep seniors out of nursing homes and in their homes as long as possible. The services vary widely from state to state, as do eligibility requirements. Some cover caregiver support while others provide money or help with meals, transportation and other services.
Option 6: Private Pay for Home Health
If you have resources available, private pay for home health may be an option. Some individuals use a combination of:
Personal savings
Home equity loans
Reverse mortgages, which allow you to convert some of your home equity into cash if you're 62+
Life insurance plans with cash value or accelerated benefits
Annuities
Community organizations may also be able to direct you to meal delivery programs, financial grants for home modification and other services. Check with senior centers, religious organizations, nonprofits and your local Area Agency on Aging. These services may make it possible to live at home independently longer.
All these programs and resources help people pay for home health care. Even if you're struggling to make ends meet and/or have complex medical needs, you may be able to live safely and comfortably in your home. Find out which benefits are available to you. Talk with your doctor or local home health agency about eligibility requirements.